Share
Close
Day Camps
In compliance with the Government of BC's Restart Plan, all of our scheduled day camps are going ahead.

We are busy putting procedures in place to maintain smaller groups and physical distancing where possible, and to respect the protective measures specified in the BC COVID-19 Go-Forward Management Strategy (PDF, 634KB) .

To keep everyone pandemic-safe, there are a few changes to our normal camp procedures. As almost all activities will take place in fresh air outdoors, we are not requiring the use of masks. Our focus will be on frequent handwashing and sanitizing, limiting contact with others, encouraging physical distancing, and having outdoor fun wherever possible. We will be placing your children into groups for the week with no more than 5 other kids, and most activities will be done in those small groups.

DROP-OFF PROCEDURES

You may drop off your child up to 10 minutes before the start of camp. Come to the gate at 6767 Balaclava Street where our staff will greet you and direct your child to their individual group.

PICK-UP PROCEDURES

Please report to the gate no more than 10 minutes after the end of your camp session. We will radio your child's instructor and have them send your child to meet you at the gate.

VISITORS

To limit the number of people on the property, we will NOT be allowing parents/siblings to remain on the property during camps. No visitors at all are allowed on the farm between 9am and 4pm. (Preschool camp parents may remain, if necessary)

Important Health Reminders

• If you or anyone in your household has been out of the province, or on an airplane, during the 2 weeks prior to camp, then please check with us before attending camp.
• If your child shows any symptoms of illness, including a cough, they must not come to camp! If your child shows any symptoms of illness, we will isolate them immediately and have you come pick them up.
• If your child has a fever, or has recently had a fever, or is taking any medications such as Tylenol or Advil to prevent a fever, please keep them home.
• If your child is sick, has recently felt sick, or you think they may have been exposed to anything resembling a COVID-19 infection, please keep them home!
• If you need to cancel your child's camp for health reasons, we will make every attempt to place them into another camp, or arrange a refund, on a case-by-case basis. We do have waiting lists for most camps, so please let us know ASAP if your child will be unable to attend.

NOTE: The north-gate to the property, on West 51st Ave, is CLOSED for the summer. Please access the property from Balaclava Street.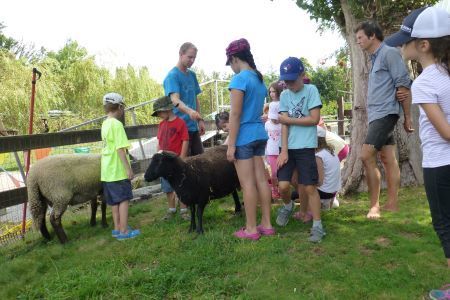 Click on the camp you want to get more info, the schedule, and the links to register.

Supervision from 12:00-1:00 pm for Campers
Register for lunch supervision if:
your child is enrolled in both morning and afternoon camps
you would like to drop off your child early for afternoon camp (12 noon)
you would like to pick up your child late for morning camp (1:00 pm)
Note this is for supervision only, and does not include food -- please send your child with a packed lunch.
Why Pony Camps? (Because it's so much fun!)

Horses are incredible creatures with so much to teach us.
They live in the present and can help us stay grounded.
They accept without judgment and can help us be authentic.
They communicate with their bodies and can teach us about boundaries.
They work together and can teach us about relationship.
They are sensitive and can teach us about empathy.
Finally they are FUN and can teach us how AMAZING life can be!
Our camps are geared towards never-been-on-a-horse riders or beginner riders. Older children, or those who can already canter independently, might prefer our private lessons -- or try our Farm Camps.
Many children spend the whole day on the farm... riding half the day and at farm camp half the day. Lunch time supervision is available.
Preschool pony camp runs Tuesday, Wednesday and Thursday, 2 hours a day. A maximum of 5 children are allowed in each camp session. All campers will experience hands-on learning of how to feed and care for "their" pony (stable management), as well as the basics of horseback riding.
Why Southlands Farm Camps?
​(because it's so much fun!)
​What is your earliest memory of being on a farm?
What did it teach you about life that you can still remember today?
For many people living in cities, farm camps were their only experiences on farms as children and teenagers. These adventures are fundamental to understanding our food systems, appreciating healthy farming, and developing wonder and care for the natural world. At Southlands Farm, we take a stand to inspire mind-full behaviour and sustain-able stewardship.
This isn't your typical day camp. It is a real, rustic farm experience where kids learn life and survival skills. Our Farm Educators are highly skilled, knowledgeable, engaging, and passionate.