Share
Close
Summer Camps
COVID-19 Update: May 8, 2020
In compliance with the Government of BC's Restart Plan, all of our scheduled summer camps will be going ahead.

We are busy putting procedures in place to maintain smaller groups and physical distancing where possible, and to respect the protective measures specified in the BC COVID-19 Go-Forward Management Strategy (PDF, 634KB) .

More information will be posted here in June.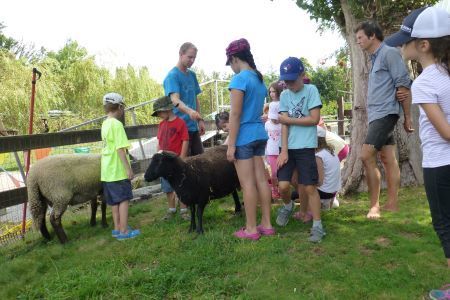 Click on the camp you want to get more info, the schedule, and the links to register.

Our camps are geared towards never-been-on-a-horse riders or beginner riders. Older children, or those who can already canter independently, might prefer our private lessons -- or try our YOUNG FARMER CAMPS.
Many children spend the whole day on the farm... riding half the day and farming half the day. Lunch time supervision is available.

Preschool pony camp runs Tuesday, Wednesday and Thursday. All campers will experience hands-on learning of how to feed and care for "their" pony (stable management), as well as the basics of horseback riding. On the last day of camp parents are invited to join in the fun.
This isn't your typical day camp. It is a real, rustic farm experience where kids learn life and survival skills. Our Farm Educators are highly skilled, knowledgeable, engaging, and passionate.
Supervision from 12:00-1:00 pm for Campers
Register for lunch supervision if:
your child is enrolled in both morning and afternoon camps
you would like to drop off your child early for afternoon camp (12 noon)
you would like to pick up your child late for morning camp (1:00 pm)
Note this is for supervision only, and does not include food -- please send your child with a packed lunch.