Share
Close
Summer Camps
In compliance with the Government of BC's Restart Plan, all of our scheduled day camps are going ahead.

We will be complying with recommendations from the BC Camps Association.
To keep everyone pandemic-safe, there are a few changes to our normal camp procedures. As almost all activities will take place in fresh air outdoors, we are not requiring children to use masks unless physical distancing cannot be maintained. Our focus will be on frequent handwashing and sanitizing, limiting contact with others, encouraging physical distancing, and having outdoor fun wherever possible. We will be placing your children into groups for the week with no more than 5 other kids, and most activities will be done in those small groups.

DROP-OFF PROCEDURES

You may drop off your child up to 10 minutes before the start of camp. Come to the gate at 6767 Balaclava Street where our staff will greet you and direct your child to their individual group. ADULTS, PLEASE WEAR YOUR MASK.

PICK-UP PROCEDURES

Please report to the gate no more than 10 minutes after the end of your camp session. We will radio your child's instructor and have them send your child to meet you at the gate. ADULTS, PLEASE WEAR YOUR MASK.

VISITORS

To limit the number of people on the property, we will NOT be allowing parents/siblings to remain on the property during camps. No visitors at all are allowed on the farm between 9am and 4pm. (Preschool camp parents may remain, if necessary)

NOTE: The north-gate to the property, on West 51st Ave, is CLOSED during camps. Please access the property from Balaclava Street.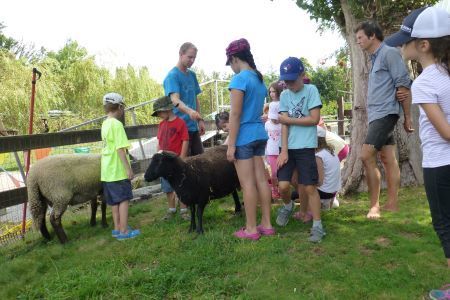 Click on the camp you want to get more info, the schedule, and the links to register.

Supervision from 12:00-1:00 pm for Campers
Register for lunch supervision if:
your child is enrolled in both morning and afternoon camps
you would like to drop off your child early for afternoon camp (12 noon)
you would like to pick up your child late for morning camp (1:00 pm)
Note this is for supervision only, and does not include food -- please send your child with a packed lunch.